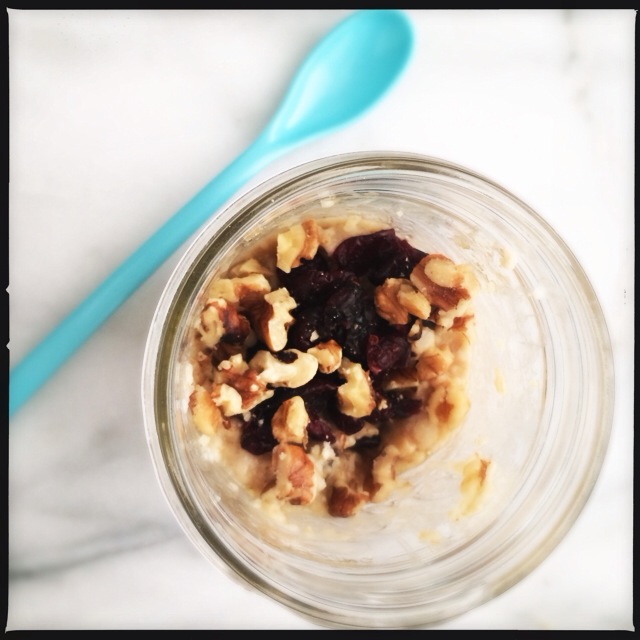 My husband, Mr. PC, came home from work and announced that he would be participating in a lose 10 pounds in 10 weeks competition at work. I'll admit that my first thought was "ughhhhhhhh!" We do really need to up our fitness game (from non-existent to actually doing some sort of physical activity), but honestly, like most people, we often find it challenging to find the time with our busy schedules.
Plus, we love good food, cocktails and wine, and often treat meals like great events, eating to our hearts content. The eating out or quick meals during the fast pace of the week often catch up to us with a snugging of our pants.
I love trying out new (or new to me) ideas that I feel will make my life a little healthier and a little easier. Enter this concept of soaked oats. I've been reading a lot about sprouting and soaking grains to make them more digestible, which also allows for the nutrients to be better absorbed by the body. I've heard a lot about overnight soaking of oats (hello muesli) and have always wondered if soaked oats taste better than the regular cooked version. Answer: yes!
However, I am not into eating them cold. I just can't get around the texture and temp combo. So, I do reheat my oats. I love that it makes a hearty, re-heatable breakfast that can be easily transported, and doesn't have any preservatives. When I eat a breakfast like this, I don't find myself snacking as much during the day.
I make a batch at the beginning of the week, stored in mason jars in the fridge, they are easy to pull for breakfast on the go (for me), or for Mr. PC to take to work.
I soak the oats overnight with water and organic (no-sugar added) apple juice. Reheated in the morning with a couple splashes of milk, then portioned out into jars, and stored in fridge. I reheat my oats each mornings with a bit more milk (use homemade almond milk, which is amazing), add in a touch of brown sugar or some homemade jam, nuts, dried fruit, fresh fruit, a bit of quinoa leftover from dinner, coconut milk…options are endless.
Perhaps this will help until I can get back on that running regime.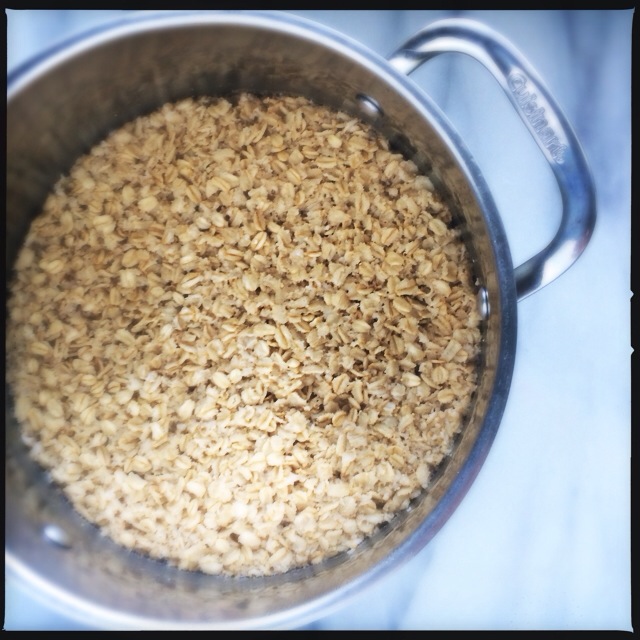 Soaked Oats

Ingredients:

2 cups Apple Juice, Organic & No-Sugar Added
2 cups Water, Filtered
2 cups Rolled Oats, Organic (and if needed Gluten Free)
A pinch of Salt
1/4 - 1/2 cup Whole Milk, Organic (or Homemade Almond Milk)

If desired, you can add a multitude of items, here are some that we often add-in.
3 TBSP Wheat Bran (omit if Gluten Free)
1 tsp. Cinnamon, Ground
Handful of Cashews or Walnuts, Chopped
Handful of Dried Cherries or Dried Cranberries
Nut Butters
Hemp Seeds
Homemade Jam
Honey
Brown Sugar
Leftover Quinoa (I know this sounds odd, but with some raisins and a splash of milk, it's delicious!)

Directions:

In a large pot, bring water, apple juice and pinch of salt to a boil. Remove from heat and stir in oats. Cover and allow to sit overnight. (I don't refrigerate mine, but if it freaks you out to leave it at room temp, you can refrigerate.)

The next morning, heat up the oaks with 1/4 - 1/2 cup milk (or almond milk) (You can also, just portion into jars, and not reheat - this is how they are traditionally eaten, but I am not a fan of the texture/temp combination). Portion into containers (we use glass canning jars with the plastic BPA free lids) and stir in extras. Store in the fridge. Eat cold or reheat.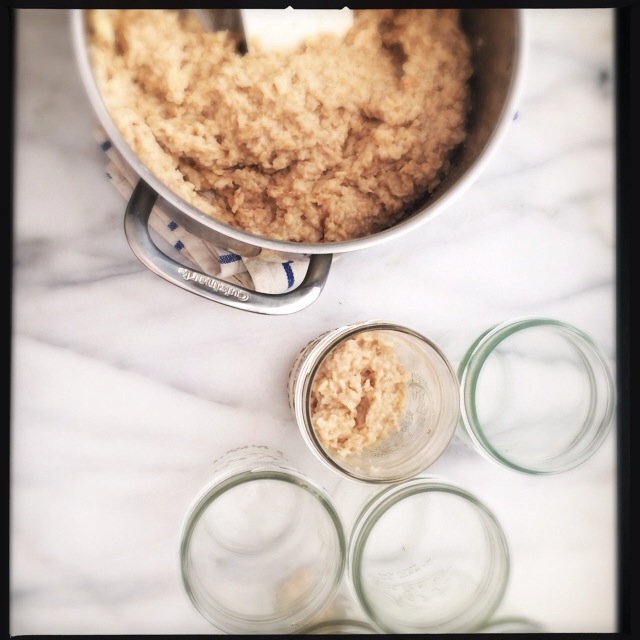 Rachel Ellrich Miller is a pastry chef and food writer in Phoenix, where she bakes, eats, hangs out with her amazing husband, Mr. PC, and drinks copious amounts of Arizona wine. You can get more information about her pastry at http://www.pistolwhippedpastry.com, or her Sugar Rush column on Phoenix New Times Chow Bella blog.