I went through a phase a few years ago where I was obsessed with caramelized onions. I made them everyday to eat on thick toasted slices of bread I was testing, tossed with pasta and goat cheese, or with my morning eggs. They were sweet, charred, and with a dash of salt, perfect on just about anything. Due to some comments from friends and my sister, I am pretty sure that my house, as well as my person, were pretty pungent, but I didn't care. I love the smell. It was comforting to come home and have the scent of onion perfuming the air.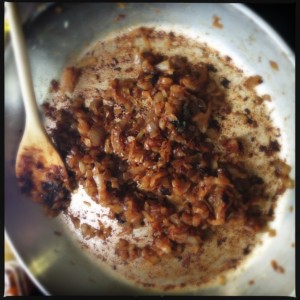 Working as a pastry chef can be challenging at times, to keep your creativity fresh. I read everything I can get my hands on, taste the work of other chefs, travel to new towns to see what is happening in their food scene, scour the internet for new techniques and back myself against a wall, to force myself to come up with new ideas and methods.
Some days, I go back to my favorites. Hunting for new scone flavor variations the other day, I wandered around the kitchen. I scoured the walk-in, the freezer, dry storage. That is when I saw the onions. As freshly baked bacon wafted through the air, I started to piece together a new scone flavor. It is simple, but caramelized onions, bacon and cheese scones are one of my biggest sellers, so apparently others feel the familiar tug of comforting flavors too.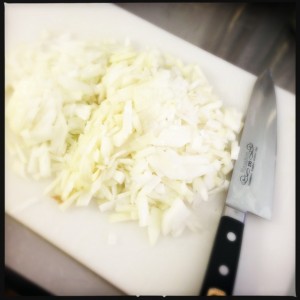 I hadn't made caramelized onions in a long time and once I started at work, I couldn't seem to stop. Zipping to the market after work, I filled my basket with onions and headed home to continue my caramelized project.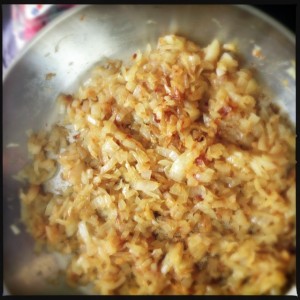 One of my favorite ways to eat caramelized onions is in quiche. Silky custard of eggs and milk, flaky pie crust and all the little bits and pieces you have left over in the fridge, tossed into the mix. I keep a pie crust rolled out in a pie plate in the freezer at all times. It is my quickie dinner when I just don't feel like assembling a full meal. I mix up the egg and milk (or cream if you are feeling dangerous), toss in the bits and bobbles I can find. Pop it in the oven for about 45 min-1 hour. While it bakes, I toss together a small salad, and pour glasses of wine. It's simple, like the caramelized onions, but it's comfortable.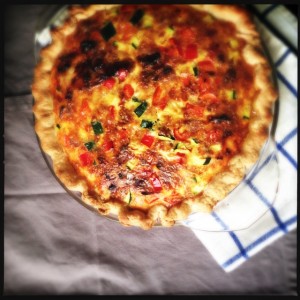 As Mr. Paul Child walked in the door, mid-caramelized onion sautéing on the stove, the first words out of his mouth were "Ohhhh! What smells so good in here?" I knew I was marrying the right man.
Caramelized Onions and Quiche

Ingredients:

For the Caramelized Onions:
2 large onions (any variety that you like)
A couple tbsp good olive oil
A pinch of salt

For the Quiche:
Pie crust in a 9.5" or 10" pie plate; chill very well (or keep in the freezer like I do)
7-8 eggs
1/2 cup milk (you can also use all cream or half milk, half cream)
Various odds and ends (I used zucchini, red pepper, teleme cheese, caramelized onions and bacon)
Salt and Pepper

Directions:

For the caramelized onions:
Heat a sautee pan over medium heat. Pour in a couple tablespoons of good olive oil. You want to keep the onions from sticking to the pan, you do not want your onions drowning in oil. Toss in your onions. This process will take a bit, so be patient. Allow the onions to sweat, stir occasionally. The onions will start to color. When they do, try not to move them around too much. You do want to move the onions, to allow the color to cover all the onions, but you also want them to color, and moving them around a lot will not allow them to get nice and caramelized. If you like a paler caramelization, take them off at your preference.

Quiche:
Whisk egg and milk together. Toss all your odds and ends in the frozen pie crust. Pour your egg mixture over.Pop in the oven at 350 degrees for 45minutes to an hour. Basically, it should not be jiggly in the middle and golden brown on top. I always end up covering the top with aluminum foil near the end, to keep the top from over browning.

Serve with side salad and a glass of Arizona Sand Reckoner white for a perfect summer evening.