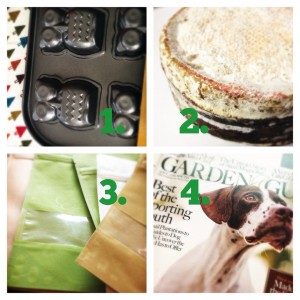 1. Owl Cake Tin – I am obsessed with owls. Probably because my grandma used to collect them, and having them around reminds me of her. These were too cute to pass up. World Market for $8.99. I can't wait to bake up some little owl cakes.
2. Rush Creek Reserve, from Uplands Cheese Company – This cheese is amazing! You purchase a round, and then cut the top off, because the cheese inside is so liquid, gooey. The ripeness of the cheese communicates the change in the cow's diet, from grass-fed during the summer, to dry hay of the winter season. The small wheels are wrapped in spruce bark, which infuses a woodsy flavor to the rounds. Mr. Paul Child bought me a round of their latest and last release of the season, for my birthday. It only lasted two days with a box of Trader Joe's crackers. Contact Wedge & Bottle to see when Uplands Cheese Company will begin to ship again later in the year.
3. Packaging for my pastry – Honestly, there are so many choices out there. It is complicated, to want to present your product in a beautiful way, and yet at the same time, to not spend a fortune to do so. I've been getting samples and trying to make wise decisions. What is your favorite kind of packaging, and what do you dislike in packaging?
4. Garden & Gun Magazine – If you have never picked up this homage to the south, you need to! Beautiful photos, well-written stories, and delicious recipes from incredible southern chefs, it is the accumulation of everything I want in a magazine. For sale at Barnes & Noble or subscribe on their website.