I have a love-hate relationship with summer. It is definitely my least favorite of the seasons, and it was even when I was a kid. All I can think of are shorts, which I don't wear, because they are highly unbecoming, or being 8 years old, and sticking to the leather seats in my grandfather's gold Lincoln. The saving grace for summer not receiving my pure, sweaty hatred, was, and is, stone fruit season. Nectarines, peaches, cherries, apricots, and my personal favorite, plums.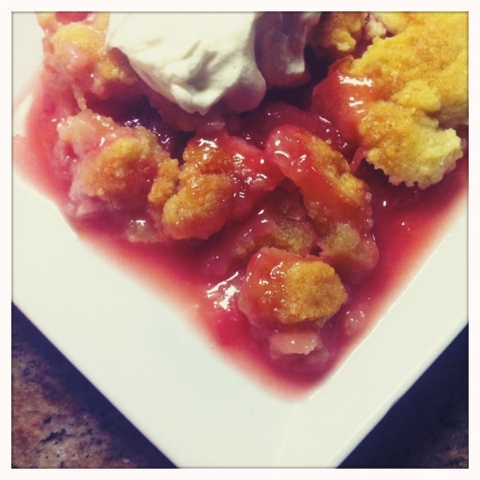 My mom only used to buy black plums, the deepest shade of purple with a white shimmer on them. The soft sweetness of ruby center disintegrates between the tongue and the roof of your mouth. The skin demands some chewing. As your teeth pinch the skin, tartness seeps and kicks your rear taste buds in the face. I'd slip into the refrigerator like a ninja, taking two plums at a time. I'd gobble them, locked away in my room, staring at a Donnie Wahlberg poster. Tucking the pits in a paper towel, I'd bury it at the bottom of the garbage can so no one would know I was double fisting stone fruit.
In this last bit of summer weather, while I pray for rain to pour from the skies and cool this retched desert off, I need the consolation of my favorite part of summer. The warm jamy plums, topped with buttery, sweet crumble. Perhaps a farewell, before kicking summer out the door.
Plum Crumble

Ingredients:

For the filling:
6-8 plums (I used pluots, but you can use any that you love)
1/2 c. - 3/4c. granulated sugar (taste the plums and decide how sweet you want to make it)
1/2 each lemon, juiced

For the crumble:
1 c. all-purpose flour
1/4 c. granulated sugar
1/3 c. almond meal/flour
4 oz. butter, slightly softened at room temperature, but still cold (I use Irish butter. Once you eat Irish butter, you won't go back. Kerrygold is imported by many grocery stores. The only draw back is it's price at $4.99 for 8oz.)
1/4 tsp. fine sea salt
1/4 c. heavy cream
1 tsp. vanilla paste

For the whipped cream:
heavy cream
granulated sugar
vanilla extract

Directions:

Pre-heat oven to 325 degrees F.

Prepare your plums into slices. Make sure they are all about the same size so that they cook evenly. Toss them with the sugar and lemon juice and place in a buttered, oven safe dish.

In a mixer bowl, place flour, sugar, almond meal/flour, and salt. Cut the butter into small pieces and toss into the mixer with the paddle attachment. Turn the mixer to medium and mix until it becomes sandy and the butter is incorporated. This is why you want the butter to be semi-soft. Add the cream and vanilla paste and mix till incorporated. It will be paste-like consistency. Crumble the mixture in pieces over the top of the plums. I use my hands to do this. It's the easiest way and it allows for even coverage of the plums.

Bake at 325 degrees F, until plum juice bubbles up and becomes syrupy, about 30-40 minutes. Turn the oven up to 375 degrees F, till the crust is golden brown, and bake about another 10-20 minutes. It honestly all depends on how hot your oven bakes. You want the plums to thicken and become jamy, and the crust to brown.

Allow to cool slightly. Serve warm with whipped cream or vanilla ice cream. Whip cream, granulated sugar, and vanilla extract, to your taste, for whipped cream to top crumble. Store in fridge and eat cold, by the spoonful, over the sink for breakfast.