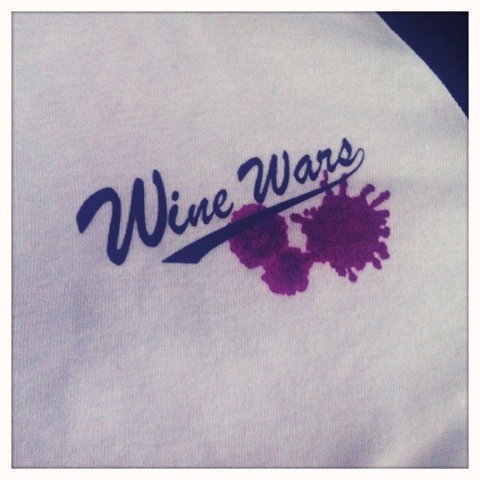 If you are unaware, there are some very interesting people making wine in Arizona. I know, everyone looks at me like I've been drinking too much when I tell them of the burgeoning wine country in Arizona, but it's here and it's quite amazing. I gift many bottles of Arizona wine throughout the year and I wait impatiently for the phone call or email of pleasant surprise, once they've been consumed.
Page Springs Cellars is the only wine club I've ever belonged to, and they've spoiled me for any other club. Multiple member events, discounts, a gorgeous new tasting room and a masseuse at the ready in the vineyard, it's hard to compete. The newest member event is Wine Wars. I have to say that I'm not normally first on line for the member events. My perception of them used to be that member events were more in the realm of lameness. I am happy to report that I was very wrong.
Rhonni from Arizona Wine and Vines Magazine and I arrived on Saturday afternoon at Page Springs Cellars in Cornville, AZ. After a little wine in the tasting room, we headed down to check in and sign up for a team (we were quite nervous about what our cryptic "Put A Cork In It" category would entail). Walking through the vineyard, around netted vines, we made our way down by the creek. Stacks of hay-bales corralled people away from the vines and created a natural jungle-gym for kids. A makeshift plywood board stage was set up overlooking folding table with chairs.
Justin busted out his karaoke machine to MC the event. Old school game-show theme songs played throughout, everyone could guess for a chance to win goofy prizes, while contestants competed. For each competition, the winners received a $15 gift card for the tasting room.
The first competition was two teams of two people. Each team had two bottles of wine and were required to open their wine and fill the glasses of all the audience members. Competition two was a grape toss into a number of glasses, large and small openings, worth different amounts. The third competition, Rhonni and I didn't wine and will be practicing for next year, was seeing how many bottles we could hand-cork in a minute. We got 5 bottles and we were beaten by the other team, with 7 bottles.
The forth competition was my favorite by far…to watch that is! Rhonni and I were eyeballing this competition at the beginning, hoping it wasn't the one we signed up for. Four plastic storage bins, filled with water, corks floating on top and bungs on the bottom. (Bungs are corks for barrels of wine.) Apparently, the game was just supposed to be bobbing for bungs, but they found out that bungs don't float, so the game had to be adapted. For every cork a player scooped up in their mouth and delivered to the wine barrel placed behind the competitors, they would receive 100 points. For every bung that they managed to get off the bottom with their mouth and deliver to the wine barrel, the would receive 500 points. I was worried the players wouldn't totally get into it, but I was surprised to see one woman diving into the container with her entire upper body, in an attempt to get a bung. She ended up winning and deservedly so! When I returned to PSC the next day to pick up my wine shipment before heading home, I ran into some guys who were attending Wine Wars, the Sunday edition. We started talking about the competitions and they told me that a woman got all the bungs but one! Dedication!
We broke for some lunch and a couple of little guessing games they had set-up (guess the song title with wine in it, how many corks in the vase, blind wine tasting). Lunch was sausage from The Meat Shop in Phoenix. The sausage was good, but the rest was a little lacking. I know some chefs, myself being one of them, who are in the wine club, and would love to come up and cook for an event. Homemade s'mores in the vineyard with a glass of wine? Just saying! ;o)
The fifth competition was making a bottle of wine. Two teams of three people, just so happened to be women vs. men. Hilarious! The women were totally into it and busted out some I Love Lucy grape-stomping moves. The men weren't as into it and remained with shoes intact while they squeezed grapes with their hands and potato-mashers. Next they had to strain out the juice and make sure they had enough to fill a half bottle. Add the yeast, siphon into the bottle and cork the bottle. The competition wasn't even close, as the women pushed the cork into their bottle and did a barefoot, grape-stained victory dance.
One of the highlights was tasting a 100% Arizona grown pinot noir. We tasted 6 wines at the event and they were all heavily discounted for purchase. After purchasing some wine (err, 4 bottles, plus the 6 from my member shipment), we headed back up to relax in the new tasting room. Sipping some great wine, listening to Puscifer, while chatting with friends. Good day in the vines.